2013/07/02

ELLICOTT 1738
the Royal Skeleton
This year, Ellicott SA in La Chaux-de-Fonds celebrates the 275th anniversary of the admission of John Ellicott in the Royal Society, London.

John Ellicott and the Royal Society: The birth of a legend
The Royal society was founded in 1660 by a group of 12 in order to create a College for the « Promoting of physico-mathematical experimental learning ». They were to meet weekly to witness experiments and discuss scientific topics. Among the most famous members, we can quote Isaac Newton and William James Frodsham.

On October 26th, 1738, John Ellicott is elected Fellow of the Royal Society.

« A person well acquainted with the principles of Astronomy and experimental philosophy, very ingenious in contriving and improving useful instruments to promote natural knowledge, being desirous of becoming a fellow of the Royal Society is recommended as a person well qualified for that purpose by us » say John Eames, Hans Sloane, Stephen Hales, John Machin, Martin Folkes, Edward Wilmot, John Senex and John Hadley (copy of the original document attached).

His most prestigious inventions
John Ellicott's footprint was left in English watchmaking's history, becoming one of the greatest kingdom's watchmaker.

In 1752 he invents a compensated pendulum, then adopts the cylinder escapement of George Graham, making this system popular.

He created a pocket watch with a stop second system and drawed public clocks, such as the London Hospital's.
John Ellicott was established at 17 Sweeting's Alley, Royal Exchange. Gaining great reputation for the beauty and excellence of his workmanship, he was appointed to His Majesty George III.
Today, Ellicott SA is a Swiss watch manufacturer, reviving Ellicott's London spirit.

To celebrate the 275th anniversary of the admission of John Ellicott in the Royal Society, we honour this master watchmaker with an inspiring creation, the ROYAL SKELETON. A Baselworld 2013 world premiere!
Architectural transparency
The watch movements fascinate since the origins of watchmaking. Talented watchmakers realise creations to highlight wheels, springs and bridges on intricate mechanisms.
New Design timeless as ever
This new Ellicott's timepiece is as timeless and elegant as ever and captivates its owner by a mechanical performance, an outstanding artistic sense and a perfect craftsmanship mastery. Designed with echoes of the classic RS model, yet with contemporary elegance and purity, the result is a profile where every line, dimension and proportion works in harmony.
The Skeleton movement
To make a unique design even better for this new ROYAL SKELETON movement was an incredible challenge. The extremely meticulous finishing with openworked bridges reveals its most tiny component, enhancing the fabulous hand-wound movement.

This contemporary interpretation of the ROYAL SKELETON features a manual winding movement in 18K pink gold case.

Ellicott pays tribute to the traditional techniques by sculpting this movement in a modern and innovative way while giving a dazzling transparency to the architectural structure.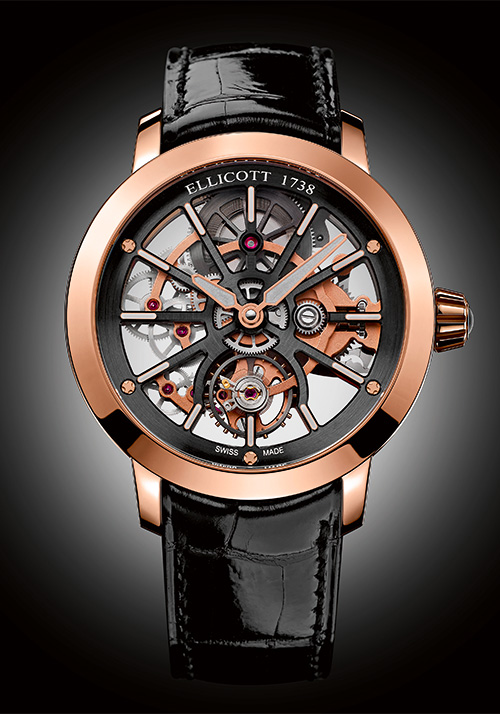 Specifications (Click to slide)
Movement:

Caliber E.RSK.130

Skeleton mechanical hand wound movement


Weight: 16.50 gr

Diameter: 34.50 mm

Thickness: 5.86 mm

Number of components: 149

Number of jewels: 21

Power reserve: 48 hours

Balance: With screw

Frequency: 28'800 alt/H (4Hz)

Spring: Flat

Case:

Gold 18K 5N with sapphire crystal

Back with sapphire crystal


Water-resistant: 50 meters

Diameter: 42.00mm

Thickness: 11.00mm

Between horns: 20.00mm

Strap: Alligator

Buckle: Gold 18K 5N
---