2013/05/09
HUBLOT with MONSTER
- create "INSPIRATION™ HUBLOT"
A WORLD-CLASS LUXURY HEADPHONE THAT COMBINES THE VERY BEST IN AUDIO TECHNOLOGIES WITH PRECISION WATCHMAKING CRAFTSMANSHIP AND HIGH-QUALITY MATERIALS

Inspiration™ Hublot Headphone Brings Monster's Audio Expertise Together with Hublot's Renowned Craftsmanship for a Breathtaking Music Listening and Lifestyle Experience
Basel, Switzerland, April 24, 2013 – Monster, the world leader in high-performance personal audio, is proud to announce it is collaborating with renowned Swiss luxury watchmaker Hublot to combine the very best in high fidelity audio with the finest watchmaking craftsmanship and materials to create Inspiration™ Hublot – a luxury noise cancelling headphone that offers an unprecedented music listening and lifestyle experience. The partnership between Monster and Hublot is born from a shared passion for music, ahead-of-the-curve design, advanced materials, and ultimate performance. The lightweight, rock-solid black and carbon fiber Inspiration™ Hublot over-ear headphones will be available this summer at Hublot boutiques and fine retailers worldwide.

Noted Head Monster Noel Lee: "Fine watches like those from Hublot are a lifestyle enhancing purchase for many people today, especially those who appreciate the very best things in life. Hublot is a world leader in the manufacture of exquisite watches with a lifestyle flair, so it's only fitting that Monster create the world's highest performance luxury headphone, using many of the same brand aesthetics and impeccable qualities reflected in Hublot's renowned history of fine watchmaking. Hublot customers also love music, and love to express their passion for music. The debut of Inspiration™ Hublot is a major step forward in the luxury headphone experience."
"It's an honor for Monster to team up with a great partner like Hublot. Monster is about setting the bar high and this partnership proves that. Sky is not the limit, it's only the view!" noted Swizz Beatz, co-owner and member of Monster Advisory Board.

Precision Machining and Parts, State-of-the-Art Sound Performance
This fusion of both cutting-edge materials and audio innovation in Inspiration™ Hublot is a significant first in headphone manufacturing. With their precision parts and fine-tooled machining, Inspiration™ Hublot headphones incorporate Monster's very latest audio technologies in an all-digital design that includes dual mono amplification for the best possible sound, with superior digital noise cancelling. The result is a breathtaking music listening experience in which every instrument is heard with precision. Like a fine Hublot watch, Inspiration™ Hublot headphones feature genuine real carbon fiber that's ideal for reproducing music with impeccable sound quality and precision. Featuring an elegant brushed aluminum finish, premium rubber headband, authentic leather headband and specially created carbon fiber earcups, Inspiration™ Hublot headphones deliver the ultimate in comfort, audio performance and style.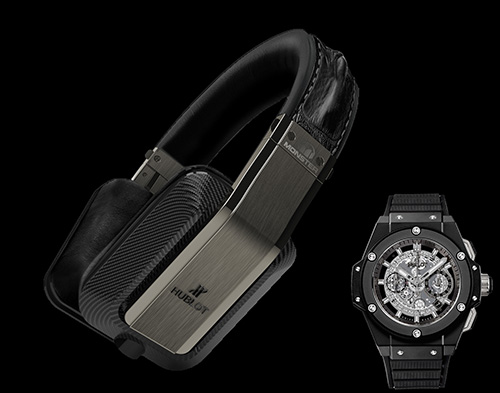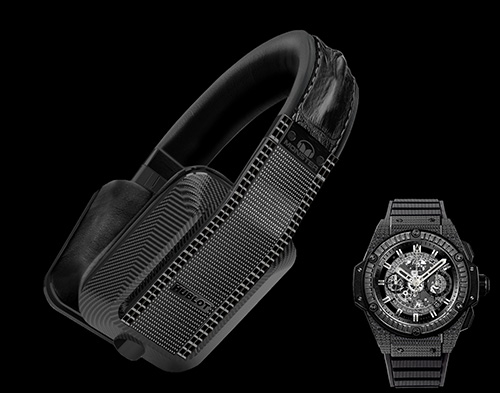 ---