2013/05/07
De Bethune
the DB25 Imperial Fountain
"There was, in a corner of the world, a wonder of the world; this wonder was called the Summer Palace. Art has two principles, the Idea, which produces European art, and the Chimera, which produces oriental art. The Summer Palace was to chimerical art what the Parthenon is to ideal art. All that can be begotten of the imagination of an almost extra-human people was there. It was not a single, unique work like the Parthenon. It was a kind of enormous model of the chimera, if the chimera can have a model. Imagine some inexpressible construction, something like a lunar building, and you will have the Summer Palace…"
Victor Hugo, in a letter to Captain Butler Hauteville House, November 25th 1861 As a follow up to the sold out Ninth Mayan Underworld, De Bethune debuts the DB25 Imperial Fountain, a new special edition of sets of 12 timepieces.
Inspired by the bronze Zodiac Animal Heads which adorned an ornate fountain in the famous Yuanming Yuan (Old Summer Palace) outside of Beijing, China, these beautiful watches feature elaborately engraved animal heads for the 12 Chinese zodiac symbols.

Each of the 12 animals heads, engraved by master artist Michèle Rothen using the bas relief technique, is in the middle of the dial of its watch, backed by a Grand Feu enamel relief of the corresponding Zodiac symbol. These engraving masterworks take up the space where a watch's movement normally goes, so Denis Flageollet and the De Bethune watchmaking team were faced with a unique challenge – where to put the mechanism to power the watch?
A completely new movement, Calibre DB 2145, was created to free the center of the dial. The resulting movements uses peripheral hour and minute hands, circling the engraved zodiac head as if by magic. New techniques, such as the use of micro ball bearings and a new transmission system capable of driving the revolving disks, was developed specifically for this movement. This new movement uses the De Bethune trademark Silicon/white gold balance wheel and balance-spring with flat terminal curve, as well as the company's patented triple pare-chute shock-absorbing system. The movement has 287 parts and a power reserve of six day.
The fountain in the Palace of the Calm Seas of the Yuanming Yuan, built in the mid-1700s and created by French and Italian Jesuits and Chinese artisans (for the Qianlong Emperor of China), was actually a huge hydraulic water-clock (clepsydra), with water jetting from the mouths of the appropriate animal head to announce the time.
Due to looting and the ravages of time, the Yuanming Yuan is in ruins now, and only seven of the original 12 Zodiac heads have been found. The Zodiac heads are a powerful symbol for the Chinese, and the subject of much discussion, both inside and outside of China. Recently, famous Chinese artist/provocateur Ai Wei Wei created his Circle of Animals (in bronze and in gold), inspired by the fountain's Animal Heads, to great international acclaim.
The De Bethune DB25 Imperial Fountain Limited Edition sets exhibits the brand's commitment to continuing to use and update the traditional arts of engraving and enameling, as well showcasing De Bethune's knowledge and savoir-faire in the worlds of traditional and contemporary watchmaking. The rare timepiece sets are traditional, contemporary, elegant and possess rate emotion – all hallmarks of De Bethune.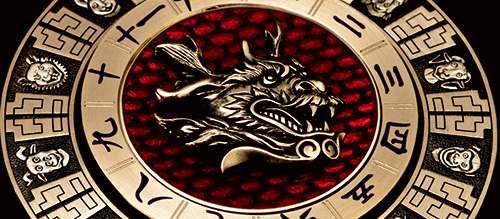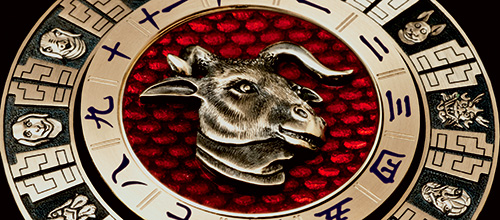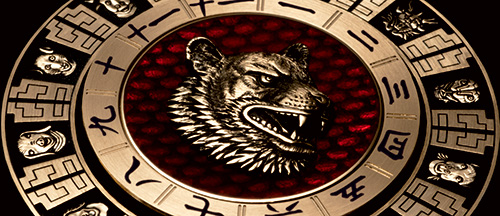 Specifications (Click to slide)
Exclusive Edition of sets composed of 12 unique timepieces in the centre of which is engraved one of the 12 heads of the animals representing the Chinese Zodiac
Functions
Peripheral hour indication – peripheral minute indication Movement DB 2145 calibre – mechanical hand-wound movement
Case
White gold, drum-shaped – diameter 44 mm – thickness 11,1 mm Attachments: fixed and hollowed lugs
Glass: sapphire crystal, 1800 Vickers with double anti-reflective treatment Crown: at 3 o'clock – adjustable in 2 positions
Back: open – sapphire crystal with double anti-reflective treatment
Display
Dial: in solid gold hand-engraved – twelve different engravings represent the Chinese zodiac heads, which formed the Yuanming Yuan clepsydra
Each dial has at its center the bas-relief of a zodiac sign decorated with the Grand Feu enamel technique
Hands: peripheral indicators in flame-blued steel
Strap
Extra-supple alligator leather with pin buckle
DB 2145 calibre
Mechanical hand-wound movement
Functions: peripheral hour indication – peripheral minute indication Diameter 40 mm – 287 parts – hand-crafted finishing and decoration with chamfered and hand-polished steel parts, mirror-polished and flame-blued steel components Self-regulating twin barrel*
Silicon/white gold balance wheel – balance-spring with flat terminal curve*
Triple pare-chute shock-absorbing system*
Silicon escape-wheel*
Jewelling: 31 jewels
Frequency: 28,800 vibrations per hour
Power reserve: 6 days
*Manufacture De Bethune patents and innovations
---