2013/03/29

*JUNGHANS "New Productions 2013"
JUNGHANS
the Meister Calendar
The moon has been a key companion to mankind since time immemori-al. It helps provide orientation regarding time and space, controls the tides of the oceans and is extolled by poets as a mystical heavenly body. The energy and grandeur of the moon has inspired the watchmakers at Junghans to offer this heavenly body a worthy stage in a Meister watch. The clear positioning of the week day and month outside of the centre of the dial means that the Meister Kalender enjoys optimal legibility. In keeping with the rest of the range, the moon phase with date display has a bowl-shaped bezel, which lends the timepiece its masterful ap-pearance. The design of the Meister Kalender is harmonious down to the tiniest detail, with the stars of the moon display glowing in the re-spective case colour of silver, yellow or rose gold. One highlight can be discovered when viewing the heavenly bodies: a Junghans star, lighting up the firmament.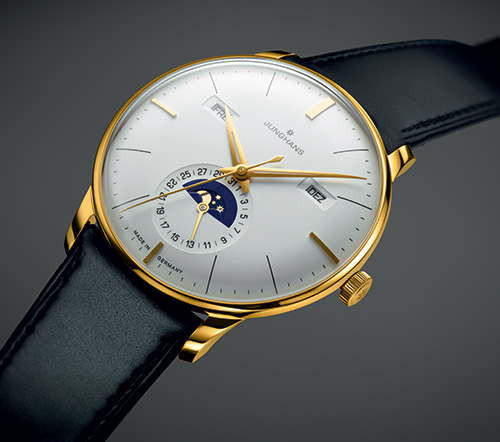 Specifications (Click to slide)
Ref. : 027/4200.00
Self-winding movement J800.3 with display for date, day, month and moon phase, stainless steel case, Ø 40.4 mm, luminous hands, convex hard Plexiglass with SICRALAN coating, 5-times screwed back with mineral crystal, horseskin strap with stainless steel buckle,water-resistant up to 3 atm.
---