2013/03/02

*Cartier "New Productions 2013 SIHH"
Cartier
the Crash
A strictly confidential object of desire
the Crash watch cultivates the prestige of rarity
Created in 1967 at the very heart of "Swinging London", the Crash watch bears the effervescent, carefree spirit of an era of freedom. It crystallises the encounter between the great creator of shaped watches and the joyful wave of popular transgression that overturned conformity.

According to the story, a client returned a Cartier watch that had been involved in an accident in order to have it repaired and Jean-Jacques Cartier, then the head of Cartier London, was so taken with the shape of the case that he wanted to reproduce it.

Crash: its name represents impact,
non-conformism and creative freedom!

Cartier enjoyed shaking up and overturning conventions, introducing humour and elegance to the world of watchmaking precision and accuracy...

With its asymmetrical dial, which can also evoke distortion and accidents, over time the Crash watch became a collector's piece produced in very limited series.

Its name was argued over by an informed elite for whom it represented a seventies underground icon. The legend took hold.

Today, the Crash watch appears in a limited edition of four new models adorned for the first time with a delicate bracelet composed of drops in white or pink gold.

In an even more precious version, the bracelet is entirely gem-set.
In reference to the year of its creation, this legendary, ultra-selective watch is produced in 267 numbered pieces for the models with gold bracelets and 67 numbered pieces for the models with gem-set bracelets. This rare object, a true object of desire, is only available in certain Cartier boutiques.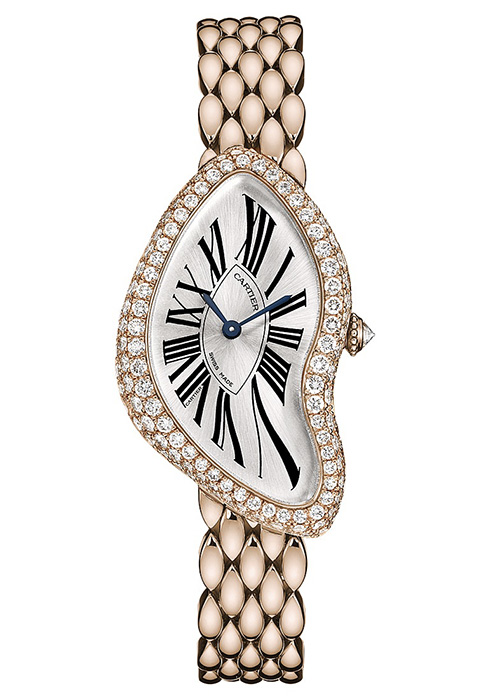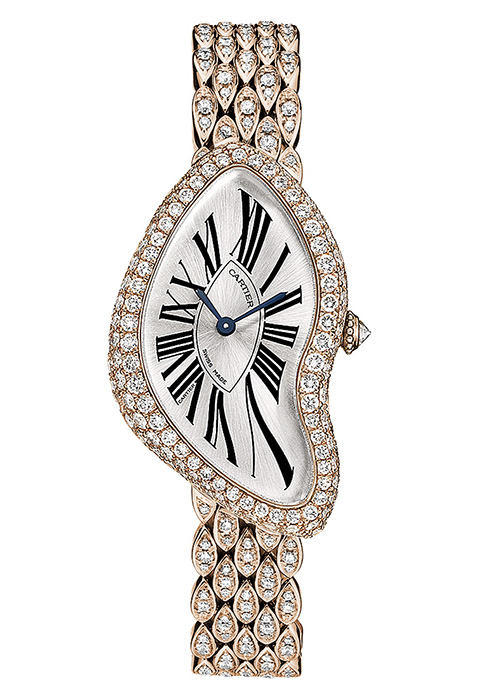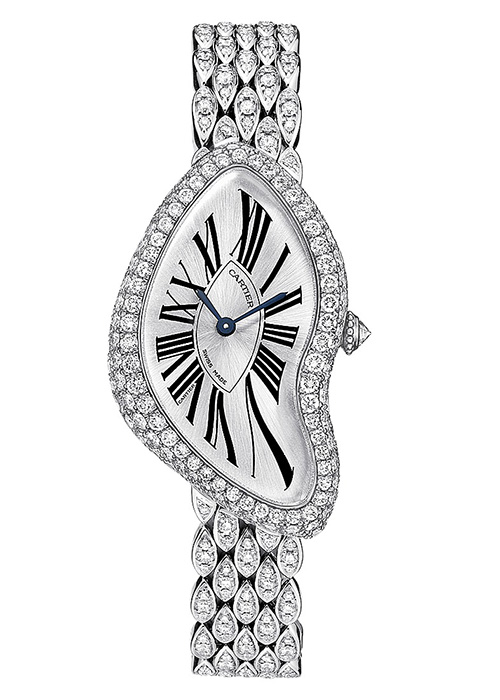 Specifications (Click to slide)
Crash watch with pink-gold gem-set bezel
Case : 18-carat pink gold set with brilliant-cut diamonds

Diameter : 38.45 mm x 25.5 mm

Crystal : mineral

Case back : closed

Hands : sword-shaped hands in blued steel
Bracelet : 18-carat pink gold

Number of stones / carat weight : 150 brilliant-cut diamonds for approximately 2.15 carats

Movement : manual

Thickness : 8.80 mm

Number of jewels : 18
Crash watch with white-gold gem-set bezel

Case : rhodium-plated 18-carat white gold set with brilliant-cut diamonds

Diameter : 38.45 mm x 25.5 mm

Crystal : mineral

Case back : closed

Hands : sword-shaped hands in blued steel

Bracelet : rhodium-plated 18-carat white gold

Number of stones / carat weight : 150 brilliant-cut
diamonds for approximately 2.15 carats

Movement : manual

Thickness : 8.80 mm

Number of jewels : 18
Crash watch in white gold set with brilliant-cut diamonds
Case : rhodium-plated 18-carat white gold set with brilliant-cut diamonds

Diameter : 38.45 mm x 25.5 mm

Crystal : mineral

Case back : closed

Hands : sword-shaped hands in blued steel

Bracelet : rhodium-plated 18-carat white gold set with brilliant-cut diamonds

Number of stones / carat weight : 471 brilliant-cut diamonds for approximately 4.27 carats

Movement : manual

Thickness : 8.80 mm

Number of jewels : 18
Crash watch in pink gold paved with brilliant-cut diamonds
Case : 18-carat pink gold set with brilliant-cut diamonds

Diameter : 38.45 mm x 25.5 mm

Crystal : mineral

Case back : closed

Hands : sword-shaped hands in blued steel

Bracelet : 18-carat pink gold set with brilliant-cut diamonds

Number of stones / carat weight : 471 brilliant-cut diamonds for approximately 4.27 carats

Movement : manual

Thickness : 8.80 mm

Number of jewels : 18
---