2013/01/27
*Jaeger-LeCoultre "New Productions 2013"
Jaeger-LeCoultre
the
Master Ultra Thin 41

Wearing time like a second skin
Hours and minutes. Dauphine hands running across an eggshell-white or sunburst silver-toned dial. An exceptionally reliable automatic movement. These few words appear to sum it all up, and yet they are only the beginning, for the Master Ultra Thin embodies a tireless quest for the absolute and for infinity.

Nonetheless, becoming an expert in horological slenderness is no easy task. Both matter itself and watch mechanisms naturally resist being pared down, a fact that can prove discouraging. Delicacy is as much a method as an art – that of reducing components to their purest functional expression, while arranging them with an exceptionally clever way on the movement mainplate so as to focus on essentials. The natural beauty inherent in the passing of time, gently marked off by the hour and minute hands.

An art and its secrets
In the late 19th century, few manufacturers were scarcely interested in horological minimalism: it was instead an age of progress and technical prowess. Watches had not yet found their place on the wrist and women were barely starting out on the long road towards emancipation. Nonetheless, Edmond Jaeger, an industrialist from Alsace who had settled in Paris, launched an appeal to Swiss watch manufacturers on the threshold of the new century. The only response was that of Jacques-David LeCoultre, director of a firm that already encompassed an impressive range of skills, numerous professions and cutting-edge equipment. The challenge set by the Paris-based businessman was admittedly a daunting one, since he wanted nothing less than to build the world's thinnest movements. Edmond Jaeger was at the head of a small Parisian workshop specialised in producing marine chronometers. Competition was fierce in this sector severely affected by the economic crisis, and he was thus looking to enter a promising new segment: especially thin watch mechanisms opened up a whole new creative field for artists and designers. The future was to prove him right. Nonetheless, his employees were more accustomed to making sizeable onboard instruments for naval forces than to developing extremely slim movements – which meant that an association with a watchmaker was an essential prerequisite for the success of his project.

Jacques-David LeCoultre and Edmond Jaeger met in 1903. They immediately hit it off and soon signed an agreement, doubtless without realising that it marked the start of a long and close cooperation that would culminate several decades later in the joining of their two names. To begin with, Jacques-David LeCoultre simply agreed to dedicate his resources, talents and experience to developing and producing a peerlessly thin calibre. In 1907, the Manufacture unveiled its 17-ligne Lépine Calibre 145 with a diminutive size that was itself a major statement: at a mere 1.38 mm, its record-breaking thinness has remained unequalled in its category to this day, more than a century after its introduction. This exceptional movement was produced for over half a century. Edmond Jaeger and Jacques-David LeCoultre pursued their fruitful cooperation and equipped some of their ultra-thin calibres with additional complications, such as an amazing 3.55 mm-thick movement comprising not only a chronograph but also a minute repeater function.

In 1953, the Grande Maison presented the Calibre 803 which, at 1.64 mm thick, heralded the era of ultra-thin wristwatches. Ten years later, it was replaced by Calibre 838 that was 1.85 mm thick – meaning barely two tenths of a millimetre more space in which to accommodate a shock-absorbing system that enhanced its robustness. For at Jaeger-LeCoultre, no feat is achieved to the detriment of reliability. In 1976, the automatic movement bearing number 900 was the first in a line of contemporary ultra-thin calibres with a balance oscillating at a frequency of 28,800 vibrations per hour, a new date-indication function, and a thickness of just 3.25 millimetres. Its descendants include Calibre 898C, the version that now powers the Master Ultra Thin 41.

The ultimate in horological minimalism
When minimalism becomes the guiding philosophy, each gesture and each stroke becomes vitally significant. Even the slightest imbalance or the smallest imperfection can result in a project being shelved. The appearance of the Master Ultra Thin 41 thus naturally inspires a hushed silence, in contemplation of absolute purity embodied in this work of art.

In both versions, one in steel with a sunburst silver-toned dial and polished rhodium-plated hour-markers, and the other with an eggshell-white dial and 4N gold-plated applied hour- markers, the Master Ultra Thin 41 embodies a perfect blend of strength and restraint. One of the dauphine-type hands points to the hours, and the other to the minutes. The operating mode of the automatic movement is discreetly indicated on the lower part of the dial. At 12 o'clock, the Jaeger-LeCoultre logo features the association of two names evoking the complementary values of two visionary minds: that of the Parisian businessman and that of the entrepreneur in the Jura mountains who was always keen to take on the most daring challenges.

At just 3.30 mm thick, automatic Jaeger-LeCoultre Calibre 898C boasts a 43-hour power reserve. It is fitted inside a 41 mm-diameter case measuring a remarkably slender 7.48 mm.

A dream watch, an idealised timepiece. Sobriety raised to an art form, accompanied by prodigious technical feats and the pinnacle of aesthetic refinement. In 2013, Jaeger-LeCoultre introduces a quintessentially timeless creation named Master Ultra Thin 41.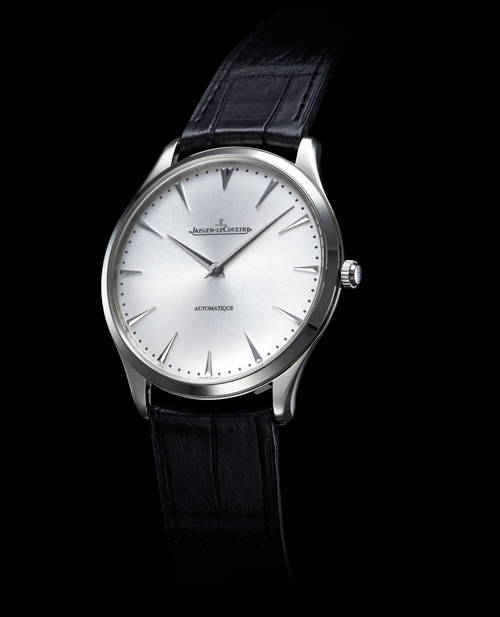 Specifications (Click to slide)
Ref. :
Q133 25 11 (pink gold)
Q133 84 21 (steel)
Movement :
Mechanical automatic movement, Jaeger-LeCoultre Calibre 898C, crafted, assembled and decorated by hand
Frequency: 28,800 vibrations per hour
43-hour power reserve
195 parts
29 jewels
3.30 mm thick

Dial :
Pink gold version: eggshell-white with 4N gold-plated appliques
Steel version: sunburst silver-toned with polished rhodium-plated appliques

Hands :
Functions :
Case :
18-carat pink gold and steel
41 mm in diameter
7.48 mm thick
Entirely polished
Water resistance: 5 atm

Strap :
18-carat pink gold version: alligator leather, pink gold pin buckle
Steel version: alligator leather, steel folding clasp
---